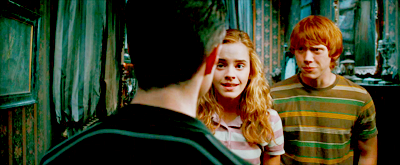 Hermione: Oh Harry! Are you alright? We overheard them talking about the Demetor attack. You must tell us everything.
Ron: Let the man breath, Hermione.
--
I love them. Both their reactions are so typical for them. And Ron calling Hermione by her name is kind of cute! :D

---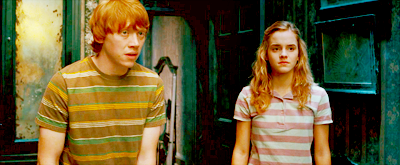 Harry:
Couldn't have put any of this in a letter, I suppose? I've gone all summer without a scrap of news.
Ron:
We wanted to write, mate. Really, we did. Only...
Harry:
Only what?
Hermione:
Only Dumbledore made us swear not to tell you anything.
--
Hello matching PJs! And ever wondered what they did before he come in? :P And the looks they give each other, priceless. ♥
And the full movie is full of striped, look out for them!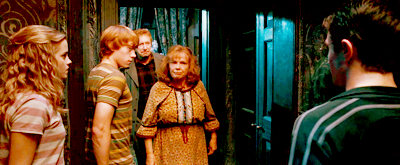 No quotes here. Ron's look at Harry and Hermione's at Ron. The cap is just so pretty, I should make a manip out of this.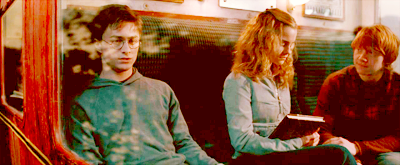 The popular train look is definitly one of my fav R/Hr moments in the movie.
Neville:
Hi, guys.
Harry/Ron/Hermione:
Hey Neville.
--
Aww, Neville is so cute. And don't they have to wear their cloakes anymore?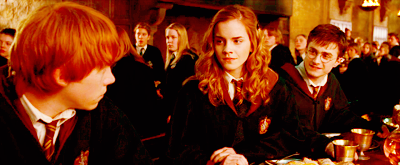 Umbridge speaking in the background.
--
Another of their looks. ♥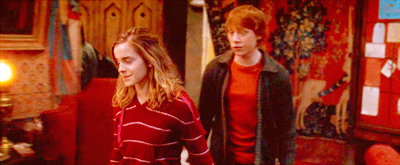 Ron:
I'm not asking you to write all of it.
Hermione:
Oh please.
Ron:
I've been busy studying for these stupid OWL exams.
Hermione:
I'll do the introduction. That's all.
Ron:
Hermione, you're honstestly the most wonderful person I've ever met. And if I'm ever rude to you again...
Hermione:
I'll know you've gone back to normal.
--
Who doesn't love this scene? Well, I do and there are just so incredible cute. ♥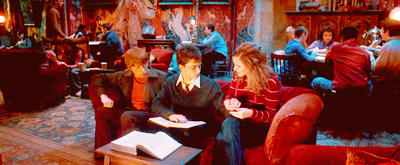 Hermione:
What's wrong with your hand?
Harry:
Nothing.
Hermione:
The other hand.
--
See that Ron is jealous of Harry because Hermione takes his hand? Well, I see it, lol.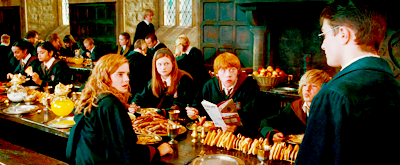 Hermione:
Do you ever stop eating?
Ron:
What? I'm hungry.
--
Are that baked bananas? Love them. :D
And Ron is so adorable, gosh. :D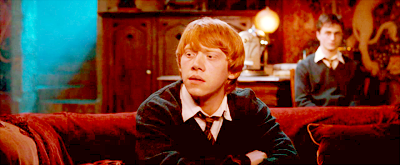 Hermione:
We're not learning how to defend ourselves. We're not learning how to pass our OWLs. She's taking over the entire school.
--
Hermione's summaries are always the best. :D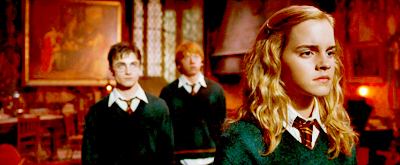 Hermione:
He really is out there, isn't he? We've got to be able to defend ourselves. And if Umbridge refuses to teach us how, we need someone who will.
--
That is my girl. ♥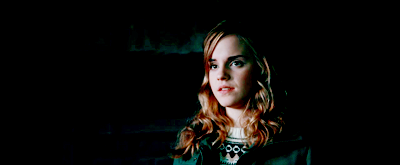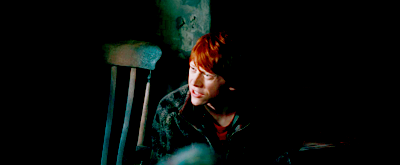 Hermione:
Hi. So you all know why we're here. We need a teacher, a proper teacher. One who's had experience defending themselves again the Dark Arts.
Some random guy:
Why?
Ron:
Why? Because You-Know-Who's back, you tosspot.
--
Ron is clearly trying to help Hermione her, y/y? :D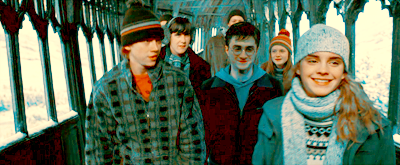 Hermione:
Who cares? I mean, it's sort of exciting, isn't it, breaking the rules?
Ron:
Who are you and what have you done with Hermione Granger?
--
Yeah, Hermione you never broke the rules before! :D And love Ron's reaction.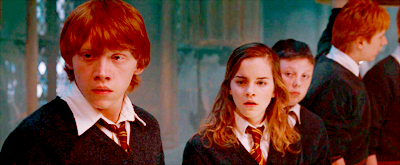 They look so pretty in their uniforms. ♥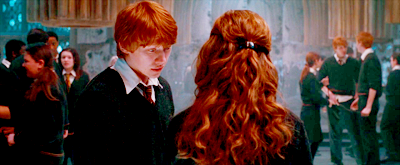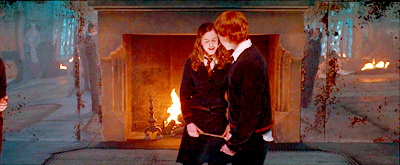 Ron:
Don't worry. I'll go easy on you.
Hermione:
Thanks, Ronald.
--
He is so cute and Hermione shaking her head when he goes away! :D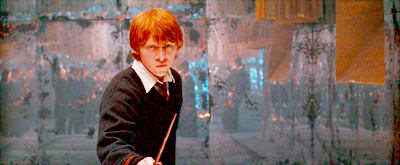 Hermione:
Stupefy!
Ron:
*makes some not really happy noise*
--
:D:D:D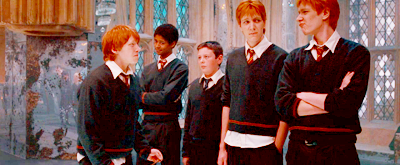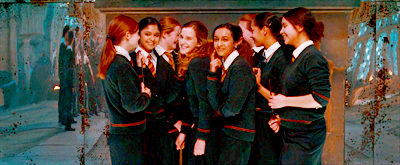 Ron:
I let her do that. It's good manners, isn't it?
It was completely intentional.
--
He is so embarrassed, but what did he think? :P Hermione isn't without reason the best witch in their year.
This is my most fav look between them. ♥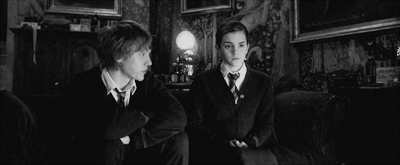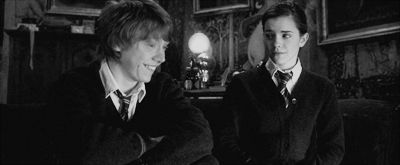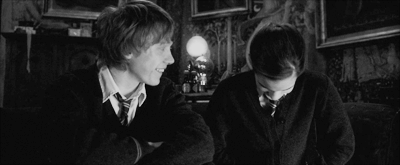 Ron:
How was it?
[...]
Ron:
You'd think a bit of snogging would cheer her up.
Hermione:
Don't you understand how she must be feeling?
[...]
Ron:
One person couldn't feel all that. They'd explode.
Hermione:
Just because you've got the emotional range of a teaspoon...
*all start laughing*